Hydraulic Oil Pump
Our organization offers a wide range of Hydraulic Oil Pumps. Procured from the reliable vendors, our offered range is flawless in nature. The pumps offered in this category are widely used in agriculture tractor industry and hydraulics machines automation. The range offered by us includes Yuken Vane Pumps, Dowty Gear Pump, Polyhydron Radial Piston Pumps and Yuken/Jactech Axial Piston Pumps.

Yuken Vane Pumps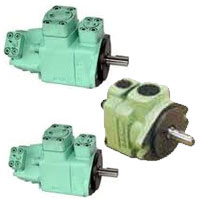 Ask for Price
We are offering Yuken Vane Pumps with fixed and simple adjustable displacement. Due to their higher efficiencies than gear pumps, these pumps are widely demanded by the customers. Used for mid pressures up to 180 bars in genre, the pumps offered by us are considered as high pressure components. In order to obtain simple adjustable pump, there are some type of vane pumps that can change the center of the vane body. The adjustable vane pumps are also known as constant pressure or constant power pumps. The displacement is increased, when the required power or pressure is reached. Similarly, displacement or swept volume is decreased until equilibrium is reached. Used in hydraulic industries, power pack manufacturers, automobile and heavy mobile vehicles, these pumps can be customized as per the requirements of our customers.
Our range includes:
PV- Series Pumps
V20- Series Pumps
HV2- Series Pumps
HV3-Series Pumps
SVPF- Series Pumps
The offered pumps are widely demanded by the customers for their features like high performance, compact designs and strong construction. The pumps offered by us have vanes mounted to a rotor, which rotates inside of a cavity. These vanes are tensioned in order to maintain contact with the walls, while the pump rotates. Moreover, the vanes can be of variable length. Our offered pumps are suited to handle clean fluids with low lubricating features at high pressure.
Dowty Gear Pump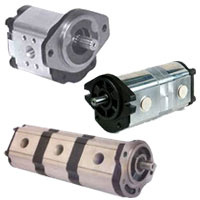 Ask for Price
The Dowty Gear Pumps are the gear pumps with fixed displacement and external teeth. These pumps create pressure through meshing the gear teeth, which forces fluid around the gears to pressurize the outlet side. The gear pumps are highly reliable and much quieter due to its design that incorporates split gears, helical gear teeth and higher precision/quality tooth profiles that mesh and unmesh more smoothly, reducing pressure ripple and related detrimental problems. Another positive attribute of the gear pump, is that catastrophic breakdown is a lot less common than in most other types of hydraulic pumps.
Superior performance, compact designs, strong construction, easy installation and longer functional life are various features for which these Dowty Gear Pumps are widely demanded by the customers.
The Dowty Gear Pump offered by us is the product of dynamatic technologies limited (DTL), which is popularly known as "Dowty". Dynamatic technologies limited (DTL) is the largest producer of hydraulic gear pumps in asia and one of the top five worldwide. These Gear Pumps are widely used in Hydraulic application in various industries. Various models are available as per customer need and application.
Below are the models along with technical specifications and data:
Polyhydron Radial Piston Pumps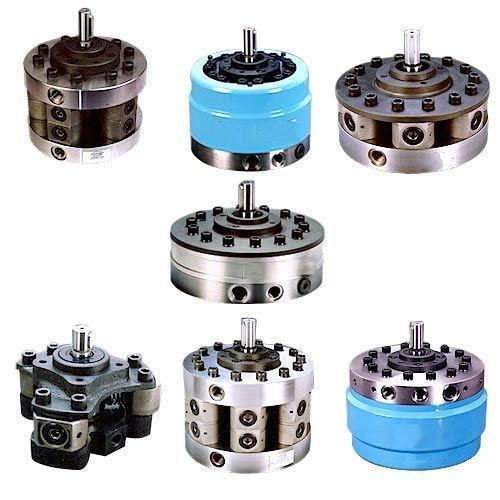 Ask for Price
We provide fix displacement Polyhydron Radial Piston Pumps. These are rugged low cost pumps with parts renewable by replacement radial piston pumps are used in hydraulic industries and power pack for high pressure application. Radial piston pumps (fixed displacement) are normally used for relatively small flows and high pressures of up to 650 bar.
These kinds of piston pumps are characterized by the following advantages:
High efficiency
High pressure (up to 1000 bar)
Low flow and pressure ripple (due to the small dead volume in the workspace of the pumping piston)
Low noise level
Very high load at lowest speed due to the hydrostatically balanced parts possible
No axial internal forces at the drive shaft bearing
High reliability
Below is technical specification and range of Piston Radial Pumps offered by us.
IR
IRC
2R
2RC
1R3
11R
11RC
12RC
Yuken/Jactech Axial Piston Pumps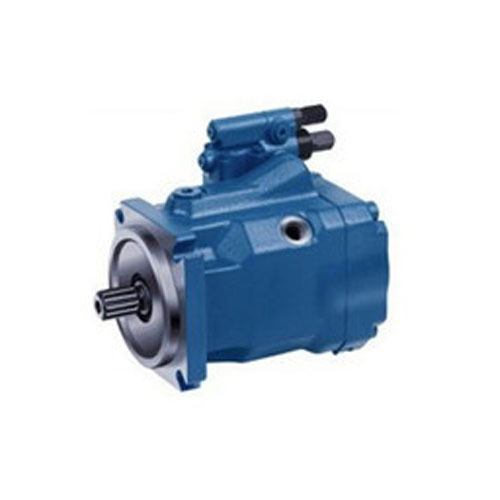 Ask for Price
An axial piston pump has a number of pistons (usually an odd number) arranged in a circular array within a housing which is commonly referred to as a cylinder block, rotor or barrel. This cylinder block is driven to rotate about its axis of symmetry by an integral shaft that is, more or less, aligned with the pumping pistons.
AR Series Yuken Axial Piston Pumps
A10VSO Series Jactech Axial Piston Pumps
These pumps have the ability to be used in different forms like stand-alone pump, hydraulic motor or an automotive air conditioning compressor. Offered in axial piston swash plate design for hydrostatic drives in an open circuit, these pumps hold continuous self lubrication and cooling facility through the inlet. The flow of these pumps is proportional to the displacement and the drive speed.
Hydraulic Control Valves
Its the efforts of our team members that we have been able to offer a wide range of Hydraulic Control Valves. Procured from the reliable vendors of the market, these valves are designed in adherence with the international standards and norms. Owing to their high performance, durability, easy installation and compact designs, these valves are widely used in numerous industries. This range includes Directional Control Valves, Pressure Control Valves, Flow Control Valves and Check Valves.

Directional Control Valves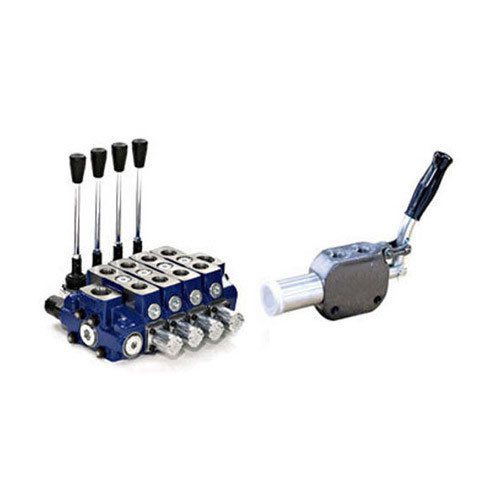 Ask for Price
DL is stockiest for Directional Control Valves of well known brands for such "YUKEN INDIA" "POLYHYDRON" JACTECH HYDRAULICS". Direction Control Valves are used for shifting oil flow direction of hydraulic circuit and for control of actuator starting / stopping as well as operating direction shifting of actuator.
Depending upon the operating methods, the Direction Control Valves are classified in following types:
Solenoid Operated Directional Valves
Solenoid Controlled Pilot Operated Directional Valves
Pilot Operated Directional Valves
Manual Operated Directional Valves
Mechanically Operated Directional Valves
Mobile control valves
Owing to their features like reliability and longer functional life, the Directional Control Valves offered by us are widely used in automobiles and the paint ball industry. With the help of these Directional Control Valves, the flow of the fluid can be directed in the required direction and location in the circuit. Clients can avail these Directional Control Valves in various specifications as per their specific requirements.
Download PDF

Pressure Control Valves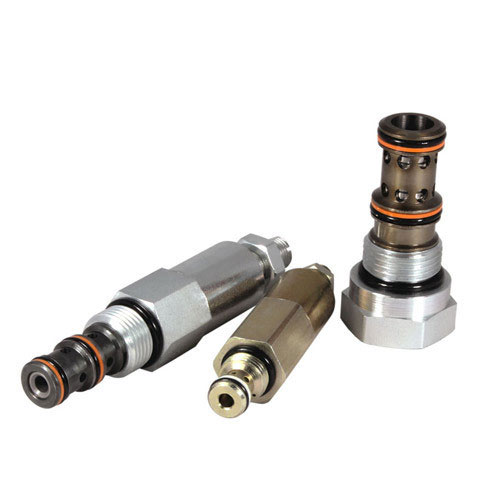 Ask for Price
Available with us a superior quality range of pressure control valves that are used to control/restrict pressure in the system. These valves works as safety valve in the system. Various types of pressure control valves are available according to the application. Valves of repute make such as YUKEN INDIA, POLYHYDRON , JACTECH HYDRAULICS are available with us.
Types:
Direct Acting pressure relief valves
Direct Acting pressure control valves
Direct Acting pressure reducing valves
Direct Acting pressure sequence valves
Pilot operated pressure relief valves - Modular Valves
Pilot operated pressure reducing valves - Modular Valves
Pressure control valves - PCM Block
Counter Balance Valves
These valves are designed to meet the exact requirements of range and flow of controlled pressure and are also helpful in regulating different types of fluids. Owing to their features like chemical & corrosion resistance, robust construction, compact designs and high performance, these Pressure Control Valves find their wide application in various industries.
Flow Control Valves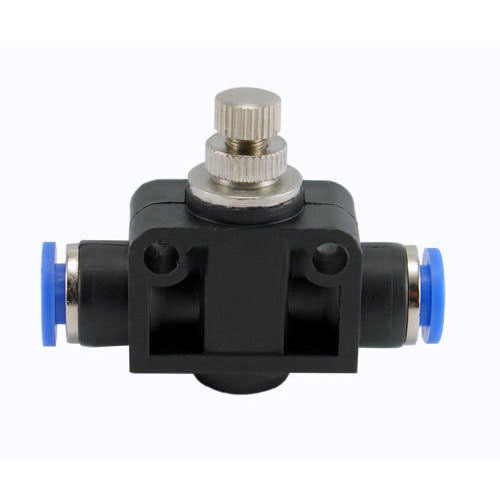 Ask for Price
The Flow Control Valves offered by us are flow and pressure compensating types valves that helps in maintaining constant flow rate independent of change in system pressure (Load) and temperature (viscosity of the fluid). These valves precisely control the speed of the actuator and also the flow rate of the hydraulic circuits. These valves have integral check valves that allows the controlled and reverse free flow. Owing to their features like reliability, optimum performance, longer functional life, corrosion resistance and sturdy construction, these Flow Control Valves are widely demanded by the clients. We offer valves of reputed brands like YUKEN, POLYHYDRON and JACTECH.
Our range includes:
Inline Flow Control Valves
Modular Flow Control Valves
Check Valves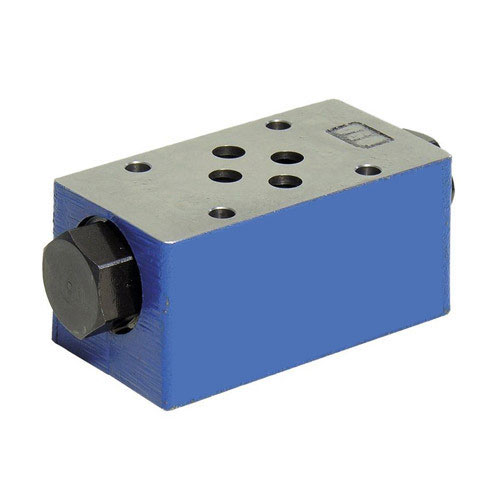 Ask for Price
Our domain expertise has enabled us to come up with a wide range of Check Valves. These seat type valves allow free flow from port A to port B and give leak-proof closure in opposite direction.
Available as in-line mounting or Sub-plate mounting as per factory & ISO standards.
Inline flow control Valves
Modular Check Valves
These valves find their wide application in various industries like oil, chemical, textiles and more. Moreover, the valves offered by us are tested on various parameters so as to ensure their compliance with international standards and norms.